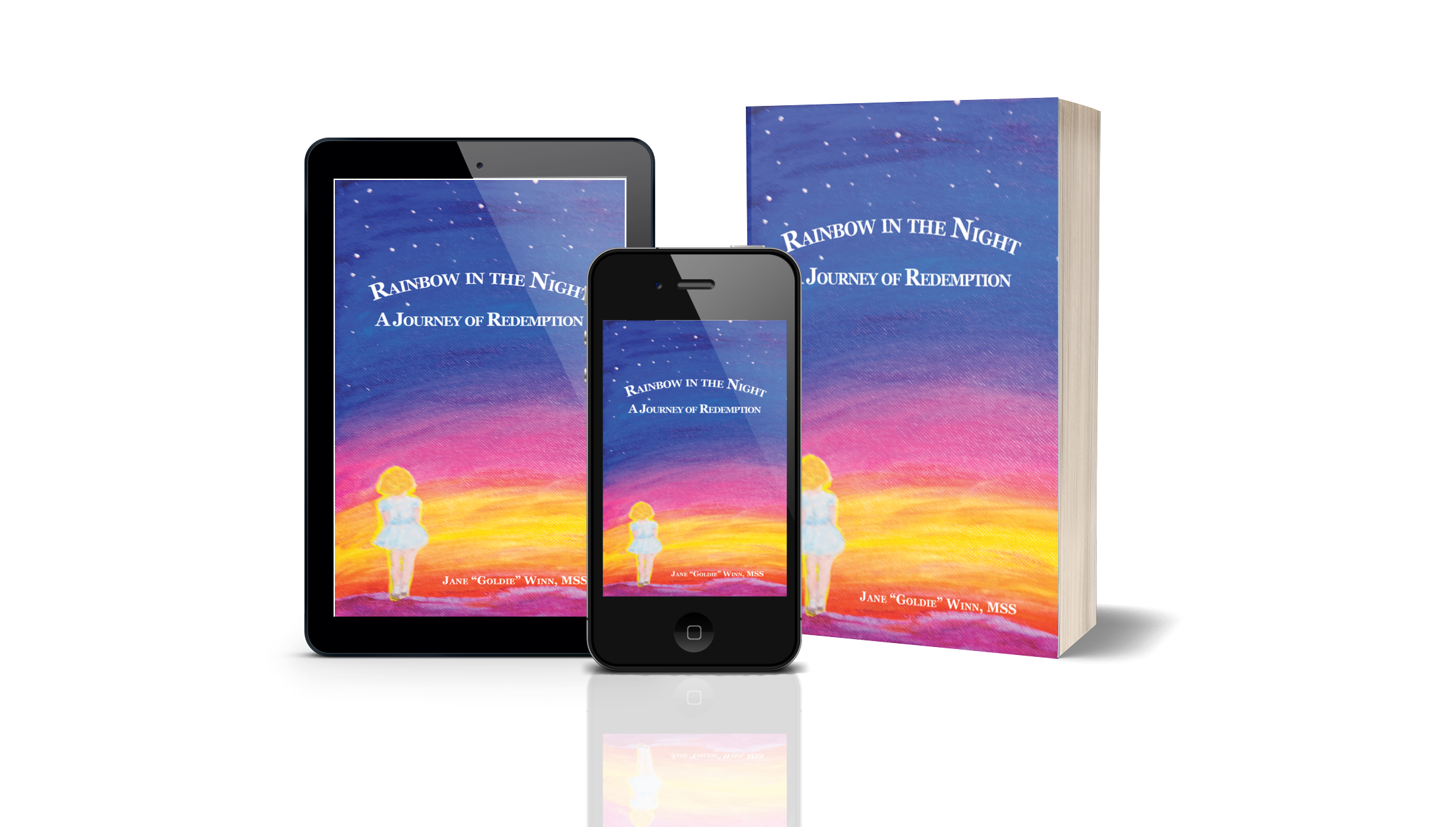 NEED HELP SURRENDERING YOUR PAINFUL PAST?
RAINBOW IN THE NIGHT: A JOURNEY OF REDEMPTION
by Jane "Goldie" Winn, MSS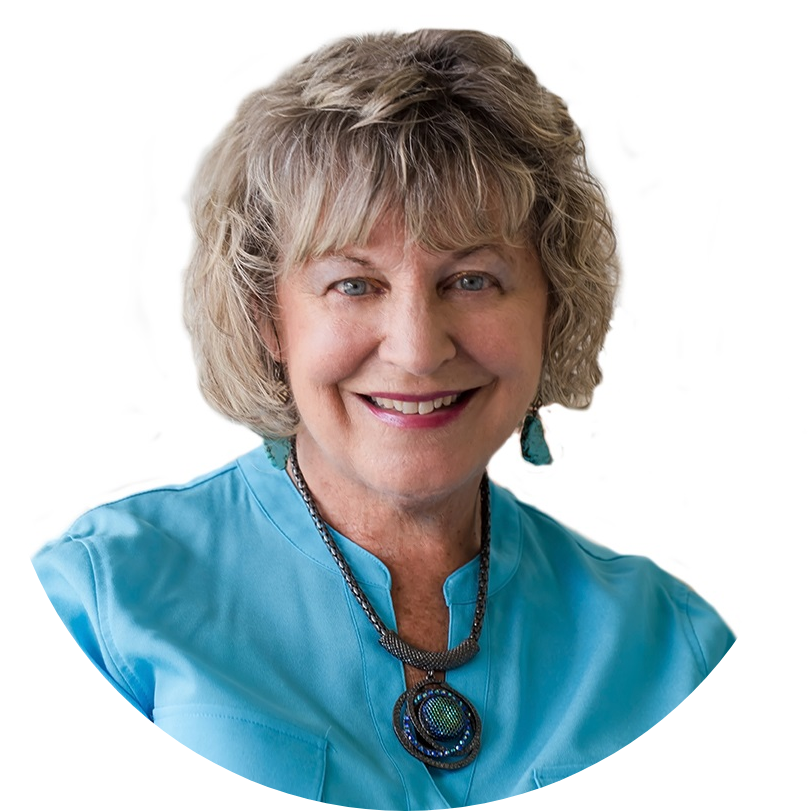 What would probably strike you the most about Jane "Goldie" Winn is her unquenchable joy. And it would probably shock you to learn that years ago she was a very different person—deeply troubled, persistently self-centered, and profoundly depressed.
When Goldie learned how the King unquestionably loves her, she couldn't help but be transformed into His image by the greatness and the beauty of that love.
And because of the great measure of His love for you, He invites you to take this adventure with Goldie as you read her openhearted and compelling book…
RAINBOW IN THE NIGHT
A JOURNEY OF REDEMPTION
In RAINBOW IN THE NIGHT: A JOURNEY OF REDEMPTION, I share the painful process of breaking free of my past and how the Lord met me in a deeply profound and loving way that enabled me to let go and fulfill Yeshua's plan for my life. —Goldie
Feeling Closer to God
To be honest, my faith in God has been shaken this year. I recently lost the person I love this year. I have been questioning God and why he took him away from me. I really don't know why he placed me in this situation. I might not have the answer now. Maybe In time, I might understand why. Reading your story of redemption left me feeling closer to God. Out of the books that were recommended by our book scouts in the U.S., I got your book. Maybe it's a sign or what. I don't know. Thank you for writing the book! 
—L. from Canada
Restored My Faith
RAINBOW IN THE NIGHT delivered a rainbow to my faith. Goldie's unshakable belief, being guided by the Lord's hand, was awe inspiring. Her story got me back on the road of my faith journey. Thank you for this blessing.
—Retired Mayor of Youngstown, Ohio; George M. McKelvey
A Remarkable Book!
I so loved your book.  You have shared parts of your story over our many years of our friendship, but I never knew the specifics of your early life, meeting Dave, your education (quite impressive) and all your adventures since then. You are truly a wonderful couple, and this is a remarkable book.  I can recommend it to anyone who wants a totally honest look into a life well-lived (continuing and ongoing) and filled with love and hope.
—Karen K.
This is a story of redemption and you will love the characters!
I found Goldie's book to be very inspirational. Following Goldie on her journey from depression and uncertainty to redemption and joy touched me very deeply. I found the book to be compelling, well written, and I couldn't put it down. It's definitely a good read!
— Sherry, Chosen Enterprises
A wonderfully honest story that will challenge you and touch your heart!
This is a wonderful story of God's faithfulness in the midst of troubles. Goldie tells this story with passion and clarity. Her transparency is the key, her story is real, genuine and relatable. Goldie and Dave's faith in Yeshua brought them through trials and it showcases His love and care manifested in their lives. Each Chapter ends with something to make us think. It truly invites you to look into your own story and put your trust in God to bring about healing and redemption as He did for Goldie.
—Angelvoice
Wonderful! Encouraging! Inspiring!
THANK YOU, Goldie, for having the courage to write this book, which is sure to positively affect anyone who reads it in one way or another. Clearly written from the heart, I couldn't put it down. Goldie's love for God and life, and her passion to help others is evident on every page. I loved the whole book and am anxious to share it with family and friends. It's a blessing to know you, dear friend!
—Sistah
Amazing and inspirational
This book is amazing and I highly recommend it to everyone, it's a beautifully written journey of how you can face terrible adversities and with help and prayer use it to become a wonderfully happy, productive and inspiring person, something we can all aspire towards. I am so glad I read it, it changed me for the better and I am looking forward to sharing it with loved ones of mine. Thank you Goldie for having the courage to write this and lay it all out for others to judge, the courage this and your self reflection required makes you a monumental soul and one I'm proud to know. Congratulations!!
—Johnny
Inspiring and Transparent
What an inspirational journey we can all learn from!
We all have a story, but to see how the Lord guides and provides for us takes faith and a close relationship with Him. For those who don't have a relationship with God there's hope shared by Goldie and her husband Dave. Our Father's plan is always perfect, and His unconditional love described throughout this book makes you long to have the same. It's a wonderful, inspiring read! It took a lot of courage to have shared the lows that Goldie went through, but she came out of them all the stronger. I highly recommend this book for everyone!
—T. Vokaty
AN EXCITING NEW LAUNCH!
Life Coaching with Jane "Goldie" Winn, MSS
News Flash!
I HAVE RELAUNCHED MY VIRTUAL LIFE COACHING!
Get your 1st session FREE!
Check out my video and email me at: goldalah@icloud.com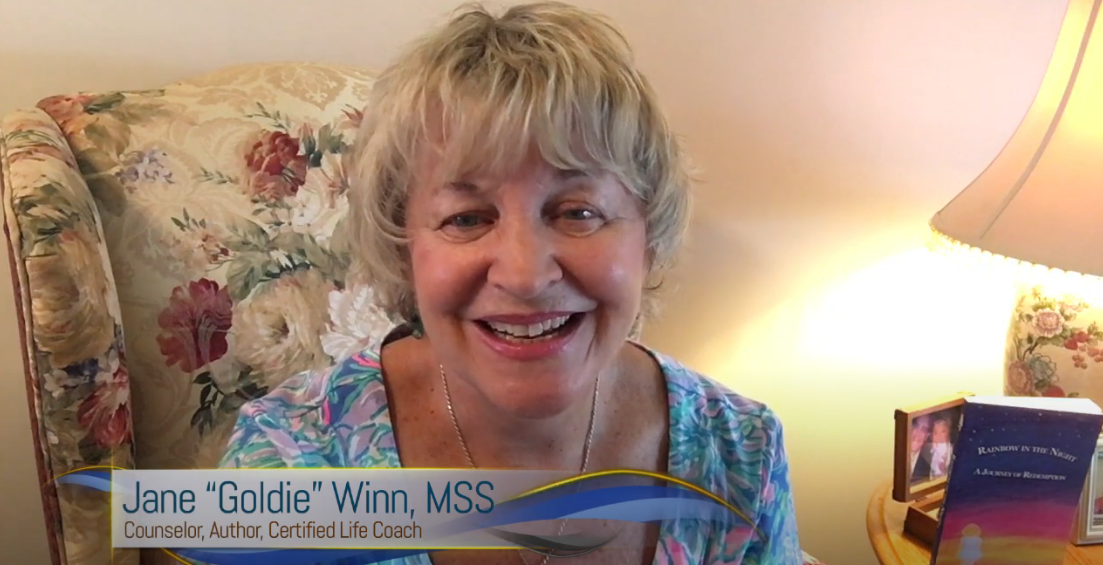 Click HERE for my special message to you about my YouTube Channel!
PAIN POINTS
by Jane "Goldie" Winn, MSS
Watch Goldie sharing her story on
Dr. James Kennedy's TV show
TRUTHS THAT TRANSFORM (12.27.20).
Click here for the video!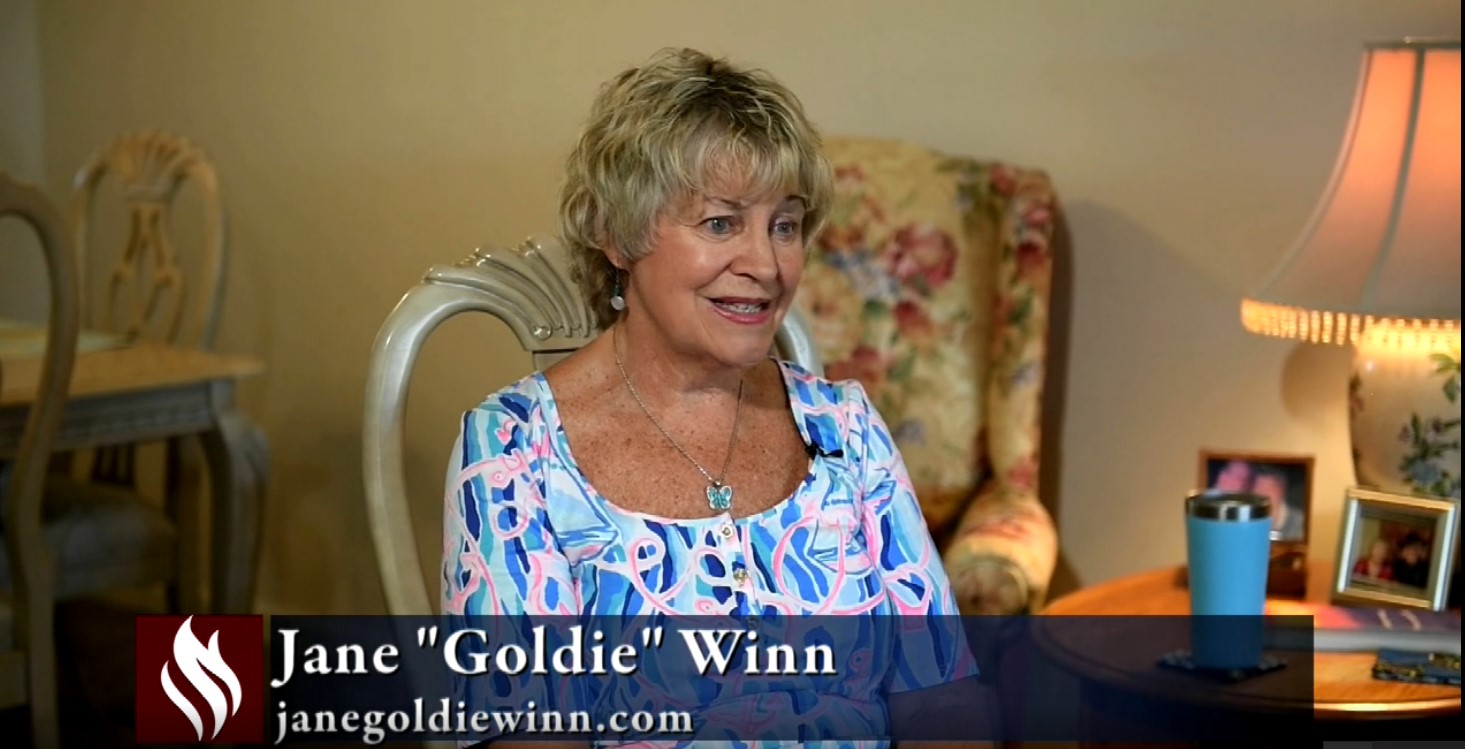 Click HERE to watch Goldie being interviewed on
The Brooklyn Cafe Show.