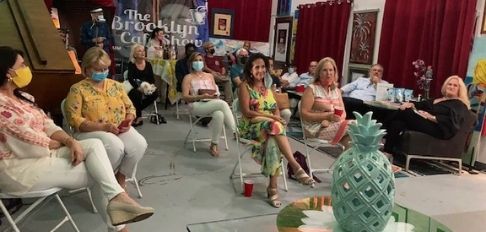 Jane "Goldie" Winn, author of Rainbow in the Night: A Journey of Redemption, had her first book signing on August 20, 2021 at The Brooklyn Cafe in Boca Raton, Florida. 
Covid restrictions were in place, but there was an excellent turn out. After "Goldie" shared with the audience facts about her book and some of the "behind the scenes," some people who had read her book came forward and shared the impact the book had on their lives. 
There was a great Q&A to follow with thought-provoking questions. There were giveaways and delicious refreshments! The ambiance was perfect, thanks to the amazing staff at The Brooklyn Cafe.
People bought books for themselves and as gifts for friends and family. A florist dropped off a gorgeous bouquet that happened to match the colors on the cover of the book! A fabulous time was had by all!
To get the book about my life story, you can buy RAINBOW IN THE NIGHT: A JOURNEY OF REDEMPTION on Amazon, Barnes and Noble, or Kindle.
Blessings,
Goldie
Click on any of the following links to buy my book; thank you!